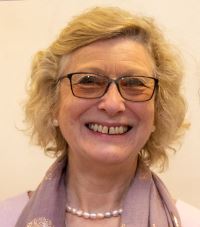 Following a vocation
For Tess Gillbard, supporting learners with dyslexia is a vocation; her late brother had dyslexia as do her three children. She qualified as a specialist teacher assessor in 1988. Her first teaching encounter was with the Dyslexia Institute Centre in Bath in 1990, where Walter Bramley, author of Units of Sound, was Principal. She has been closely associated with the organisation ever since. Having been recognised for her specialist skills, Tess set up dyslexia support, at a school in Bath while simultaneously running the Dyslexia Action Centre in Bristol, where she was Principal Designate.
Tess now fulfils a crucial role as a Study Skills Support Tutor at Bath Spa University, supporting undergraduate, postgraduate and PhD students with dyslexia/SpLD. "I was the first dyslexia support tutor on campus, initially setting up the support with the assistance of Dyslexia Action. I now work over three campuses, supporting 30 students. Many university lecturers are still unaware of the difficulties that students with dyslexia face and underestimate the emotional repercussions of specific learning difficulties," she explains.
The Dyslexia Guild and Dyslexia Action have always been an important part of Tess Gillbard's professional life and will continue to be as she embarks upon new ventures, such as her recent appointment as an ambassador for the Children's University. "The professional development that I've been privileged to undertake with Dyslexia Action has been so valuable because it recognises that it is not just students with dyslexia that need support, but that tutors need support too," she. She finds the membership benefits of The Dyslexia Guild particularly useful, from updates on the latest research in the journal, to the conferences where professions can share their experiences and learn from each other.
Interview by Annie Grant, 2019.
[/dropbox]
How can I become an Fellow (FDG) of The Dyslexia Guild?
To join as an Fellow (FDG) of The Dyslexia Guild please click here

Please note: Anyone can join The Dyslexia Guild and our network of professionals, to have designatory letters after your name you are required to have a certain level/type of SpLD qualification. The Member (MDG) level of membership is awarded to those who have completed level 7 specialist teacher/assessor qualification in dyslexia/SpLD.