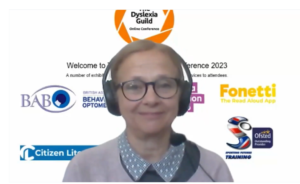 What a wonderful day it was at our first Dyslexia Guild Online Conference! An opportunity to hear expert views and examine current topical issues relating to literacy and dyslexia/SpLD. Thank you to the speakers and panellists for providing an insightful and engaging day. It was inspiring to hear about your products, services and expertise and witness the vibrant communication and discussions.
The day started off with a welcome and introduction from Head of The Dyslexia Guild, Dr Anna Smith. We had four excellent speakers – Mr. Irfaan Adamally, an accredited member and chairman of the British Association of Behavioural Optometrists gave his presentation on Vision & Learning – Beyond 20/20. Jean-Philippe van Dijck, an experimental (neuro) psychologist with a PhD in Psychology, presented his findings regarding Working Memory and Maths Anxiety. One of our own tutors, Jessica Jarman – who works on our renowned Dyslexia Action specialist teaching and assessment programmes, informed us on Supporting EAL Learners with Dyslexia. Lastly, John Casey and Diane Gardner from Citizen Literacy, demonstrated their free, phonics-based learner web app and new Tutor Platform that offer many ground-breaking teaching tools for literacy development with adults.
Here are a few words about the day from our attendees
'An interesting range of speakers bringing their viewpoints to the discussion; inclusion of theory as well as practical suggestions for practice; I am left feeling well informed'
'I liked the variety of presentations. Loved the vision impact information and the last lecture including EAL students which is extremely relevant to my work with bilingual students.'
'High profile speakers on topics that are relevant for SEN support 'on the ground', equipping professionals at different levels'
We would like to thank our Exhibitors:
Thank you to everyone who attended and contributed to making this event a success. Roll on next year!