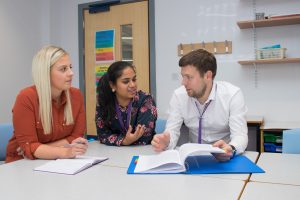 Our parent company Real Group in conjunction with Real Training are pleased to announce that a brand new Effective SEN Support Provision – Middle Leaders course, created in partnership with Whole School SEND is now live – and all educators can access it free of charge!
This course is aimed at current and aspiring middle leaders who want to develop, embed and enact new skills in SEN support and provision.
You can learn more about the Middle Leaders course and how it could benefit your teams by accessing the dedicated page here.
Please note: The Effective SEN Support Provision – Middle Leaders courses free course is not recognised as CPD for ADG FE/HE Dyslexia Guild members who have not yet completed
The Certificate in Supporting Adults with Dyslexia and Co-occurring Difficulties (DACRT56) but may be suitable CPD for qualified Guild members.
How this course benefits participants and their schools?
By completing this free CPD course, delegates will be able to:
• Understand how middle leaders can support strategic SEND provision while identifying opportunities to coordinate with other leaders in the school #
• Consider how effectively whole school approaches are implemented in their subject area
• Reflect on how line management can support effective SEND provision.
• Identify strategies and resources to support colleagues, including early career teachers, within a department to develop their practice
• Reflect on how subject-specific content can be presented to pupils with SEND
• Consider how assessment and tracking can support the identification of pupils with SEND
• Assess the learning environment for pupils with different needs, then identify and implement key strategies and resources that will support them
How is the course delivered and how long does it take?
The Effective SEN Support Provision – Middle Leaders course is delivered fully online and should take most current or aspiring middle leaders no more than 15 hours. The great news is you'll be able to access the course for 12 months, so you can enjoy the course at a time, place and pace which works for you. However, there is no time like the present to continue to develop your inclusive leadership skills and knowledge.