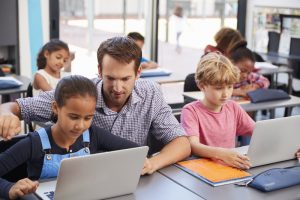 The National Tutoring Programme (NTP) is a new large £350m DfE programme which is being organised through a collaboration of five charities – the Education Endowment Foundation, Sutton Trust, Impetus, Nesta and Teach First.
The NTP will soon be appointing 50 organisations to offer tutoring to schools beginning on the 1st of November. The NTP aims to support teachers and schools in providing a sustained response to the coronavirus pandemic and to provide a longer-term contribution to closing the attainment gap. Participating schools will be able to decide which of their pupils will most benefit from additional support, and which type of support is more suitable.
Schools will choose a Tuition Partner to work with and identify students requiring tutoring.
Over the past few weeks we [The Dyslexia Guild, British Dyslexia Association (BDA), Patoss and Helen Arkell] have been meeting with the new National Tutoring Programme to help us understand their objectives and explore how we might contribute. It is clear that whilst they also want to help support young people who may have fallen behind academically they are also hoping to use this significant initiative to evaluate and build the evidence base about what time of tutoring and individual and small group teaching is most effective.
We have, therefore, come to see this as an opportunity to demonstrate the positive difference our members can make to the attainment of children and young people. It is also a positive response to the crisis and will help ensure the children that need our support most will receive it.
The Dyslexia Guild, BDA, Patoss, and Helen Arkell are concurrently asking all their members whether there is interest in us jointly bidding to become one of the approved tutoring organisations.
Please note that it will not be possible to access the NTP funds without being formally linked to an approved organisation – also referred to as a Tuition Partner.
Before we commit to bidding we would like to garner the interest of members in taking part in this initiative as tutors. Please note that the current thinking is that tutors would be engaged on a self-employed basis.
If you are listed on our websites as providing tuition please be aware that you may also be contacted by other tutoring organisations who are bidding for this work.
At this stage we would like you to please express an interest and to say how many tutoring hours in principle you could offer each week. We will not hold you to this response! It is however important for us to know that there is significant interest before we prepare a bid.