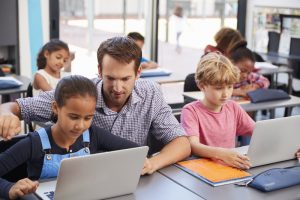 Qualified specialist teachers may be interested to learn more about the initiative to set up the National Tutoring Programme (NTP) as part of the Government's response to the effects of the recent pandemic.
A joint group of providers including The Dyslexia Guild have written to the Secretary of State for Education indicating that they wish to support the NTP by offering access to their joint resources of professionally qualified and experienced specialist teachers and assessors of learners with Specific Learning Difficulties (SpLD).
The letter also notes that a qualified specialist teacher not only identifies any specific intervention required for a student experiencing specific learning difficulties but also the impact on their curriculum access and therefore their educational progress. It is therefore essential that fund allocation through any named provider agreement confirmed by the government is flexible enough for schools to be able to choose and fund qualified, dyslexia-trained tutors for the subgroup of their students with processing weaknesses, while using more general, less specifically trained, catch-up tutors through this national scheme for other students where appropriate.
The government have therefore been asked to make funding arrangements which include flexibility for schools to use our professional associations, specialist tutor organisations and independent qualified specialist dyslexia tutors where necessary, rather than all funding being allocated only for tutors within the remit of a few named national organisations.
At present there is no sign up for the National Tutoring Programme (NTP), we will keep members informed when we have any updates.
Letter to the Secretary of State for Education 6 July 2020 for the recognition of specialist teachers is available here.
TES Article: National Tutoring Programme: All you need to know is here.