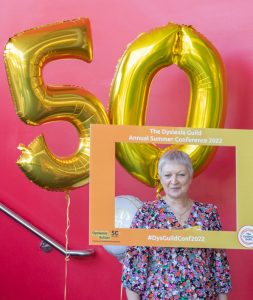 The Dyslexia Guild Annual Summer Conference was held on Friday 8 July 2022 at the University of Bath. After three years, it was great to finally meet face-to-face again and network with our wonderful members!
The conference provided a great opportunity to meet with dyslexia/SpLD specialists and discuss topical issues relating to literacy, maths, dyslexia and so much more. This year is extra special as we are also celebrating the 50th Anniversary of Dyslexia Action! Our logo transformed from yellow to gold as our attendees celebrated with some delicious cupcakes. We had a number of speakers presenting on a wide variety of topics:
Visual processing in children with dyslexia and children with autism – Dr. Catherine Manning
Including all learners in schools through student-teacher dialogues – Professor Kiki Messiou
Dyslexia and the Phonology-Reading Disconnection Hypothesis: Why It Doesn't Tell the Whole Story! – Dr Valerie Muter
Making mathematics fun through creativity and toys – Professor Chris Budd OBE
Online Teaching – Showcasing the Dyslexia Action Literacy Programme (DALP) Rachel Adkins, Katy Parnell and Tania Rogers (Available to purchase)
Here's what our delegates had to say about the presentations:
"Interesting and engaging. Theories and knowledge could be applied to all ages which made it very applicable"
"Gained more insight into differences between single and multiple deficit models to inform my practice"
We would like to thank our exhibitors for joining us, including:
Auris Tech British Association of Behavioural Optometrists
Plans are now in full-swing for the 2023 conference which we plan to hold in London! Keep an eye out for the dates, venues and location on our website and across all our social media channels.